New CACIWC Publications
The Habitat

Increasing Salamander Conservation
Wetlands Trifecta
Supporting Native Pollinators
State Conservation Lands - Permanent
Commission Membership
CACIWC News
Journey to the Legal Horizon Results of 2013 Statewide Survey of Municipal Wetlands Regulations: Upland Review Areas, Vernal Pools and Vegetated Buffers
Native Trees to Plant Now
CT DEEP Open Space Grant Awards Sharon IWCC Wins Award
CACIWC Annual Meeting

Welcome
"Dedicated to constant vigilance, judicious management and conservation of our precious natural resources."
Mission Statement: "To promote the statutory responsibilities of Connecticut Conservation Commissions and Inland Wetland Commissions and to foster environmental quality through education and through the conservation and protection of wetlands and other natural resources."
SAVE THE DATE!

37th Annual Meeting & Environmental Conference
Saturday, November 15, 2014

Watch this site for more information

* * * Membership Dues For July 1, 2014 through June 30, 2015 Are Now Due * * *

Renewal Form click here


Act Now to Protect Your State Parks, Forests and Agricultural Lands

Please contact your State Senator and Representative to let them know that

CT State Parks, Forest and Agriculture lands deserve to be protected in perpetuity; and
You strongly support Bill 70 raised by the Environment Committee

Click Here for more information
2013 Annual Meeting &
Environmental Handouts


Click here for workshop presentation handouts. (NEW!)

Click here for the Municipal Wetlands Regulations Survey graphics



Emerald Ash Borer Found in Prospect and Naugatuck, Connecticut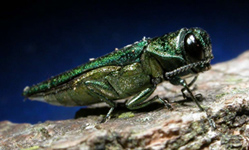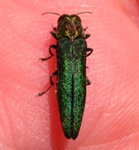 New Haven, CT – The Connecticut Agricultural Experiment Station (CAES) and the Department of Energy and Environmental Protection (DEEP) todayannounced that the emerald ash borer (Agrilus planipennis) was detected in Prospect, CT on July 16, 2012 by staff members at CAES. The identification has been confirmed by federal regulatory officials in the USDA Animal and Plant Health Inspection Service, Plant Protection and Quarantine (USDA APHIS-PPQ). This is the first record of this pest in Connecticut, which is added to 15 other states where infestations have been detected. A new probable site of infestation is located in the Naugatuck State Forest. The beetle identification is unconfirmed. The emerald ash borer is responsible for the death and decline of tens of millions of ash trees from the mid-west to New York State and south to Tennessee. Ash makes up about 4% to 15% of Connecticut's forests and is a common urban tree.
Click here to read Press Release from The Connecticut Agricultural Experiment Station
ALERT
Report Sightings of Invasive Mile-A-Minute

Vine Mile-a-minute vine is a highly invasive annual plant from eastern Asia that can quickly cover, outcompete and replace native vegetation, damaging habitat for native plants and animals. Early detection and rapid response are essential for control. Mile-a-minute was first found in Connecticut in Fairfield County in 1997. Since then, it has spread to 20 Connecticut towns, as far east as Stonington and as far north as Simsbury. Mile-a-minute spreads by seed and quickly grows into dense stands. Seeds are spread by wind and water.
Visit www.hort.uconn.edu/mam for additional identification tips, photographs and control information. You can also contact Logan Senack (logan.senack@uconn.edu) or Donna Ellis (860-486-6448; donna.ellis@uconn.edu) for additional information. To report a suspected mile-a-minute invasion, visit the above website or contact Donna Ellis at UConn at 860-486-6448.
CC :: IWC :: Tools :: About CACIWC ::Publications :: Support CACIWC ::: Links :: Legislation :: Events
CACIWC, Inc.
deKoven House Community Center
27 Washington Street
Middletown, CT 06457
Telephone: (860) 344.8321
For information on CACIWC, Inc. and its activities, please email us at: board@caciwc.org
© CACIWC, Inc. All rights reserved.

New Publications and Links

Increasing Salamander Conservation
Wetlands Trifecta
Supporting Native Pollinators
State Conservation Lands - Permanent
Commission Membership
CACIWC News

Journey to the Legal Horizon Results of 2013 Statewide Survey of Municipal Wetlands Regulations: Upland Review Areas, Vernal Pools and Vegetated Buffers
Native Trees to Plant Now
CT DEEP Open Space Grant Awards Sharon IWCC Wins Award
CACIWC Annual Meeting

Stream Temperature Monitoring Website

If you plan to conduct stream temperature monitoring you must be check for quailty control measures.
Contact Meghan Rute, CT DEEP, P: 860.424.3061 , E: meghan.ruta@ct.gov

Now accepting applications to form a New RBV Group

DEEP is currently accepting RBV training requests for groups interested in a new River Bioassessment by Volunteers (RBV) program in their area during the fall 2014 monitoring season. If you are considering doing so, please contact Meghan Rute, CT DEEP, P: 860.424.3061 , E: meghan.ruta@ct.gov. All new groups are required to have at least one representative attend new group training.

Planning for Agriculture:
A Guide for Connecticut Municipalities

American Farmland Trust and Connecticut Conference of Municipalities are pleased to announce the release of the updated Planning for Agriculture: A Guide for Connecticut Municipalities. The 63-page guide is a tool to assist town boards, local elected officials and citizen advocates in finding ways to support local farms and farm businesses and to retain and protect farmland. An electronic version of the guide is available online at: www.farmland.org/connecticut OR www.ct.gov/doag

Your Environmental Toolkit for Properly Assessing Development Proposals

CACIWC is pleased to provide Conservation Commissions with a new environmental toolkit pamphlet to help commissioners properly assess development proposals that may come before their town. Click here to download pamphlet.

Historical find in Haddam

Yellow groove running bamboo has naturalized by rhizomes washing downstream. Naturalized colony documented on 7-28-2013 in Pine Brook Preserve - Haddam, CT.

http://www.youtube.com/watch?v=gvmyqeKn2N0